Kyosho MINI-Z Car Kits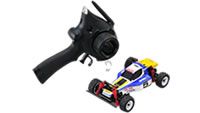 Mini-Z is a a popular line of 1:27-scale electric radio-controlled cars. The wheelbase is nominally 94mm but can range from 86mm to 106mm. The bodies are all highly detailed, realistic looking, and fully painted with a high gloss paint. The bodies are so realistic that many are collected as display models and the bodies come with a dummy chassis and wheels for display purposes.
The Mini-Z can be extensively modified with parts both from Kyosho Corporation and from aftermarket suppliers. Top speeds for a stock Mini-Z can reach 12 mph. A highly modified Mini-Z can actually surpass 61 mph or 99 km/h. With a moderately modified Mini-Z using off the shelf parts, 35 mph is achievable.However, given the size of the cars, its scale speed would be equivalent to 980 mph. At that speed, it would be impossible to negotiate corners. Most races are won with good cornering techniques rather than speed.
---